Science
Natural, hypoallergenic formulas are the basis of Anthony Logistics skin care. Vitamin-rich serums, like the vitamin A treatment, fight aging and sun damage; soothing botanical extracts, like aloe, calm and comfort; and alpha hydroxy acids, like glycolic acid, resurface the skin for a smooth finish. With hyperallergenic ingredients like aloe, Anthony Logistics products are excellent, even for sensitive skin.

Solutions
Fight oil, acne, ingrown hairs and razor burn without drying skin with Anthony Logistics For Men Glycolic Facial Cleanser. Glycolic acid and aloe vera treat blemishes and moisturizes in one step.
Customer comment: "It is the best cleanser I've used. This is what I have been looking for." -Marc

Anthony Logistics For Men Instant Fix Oil Controlinstantly absorbs unwanted oil on the skin. It keeps skin shine-free all day and reduces the look of pore size. Light diffusers camouflage shine and imperfections.

Background
The world's leading men's skin care provider and dermatologist recommended, Anthony Logistics For Men, was created out of a need for skin and shaving care products targeted toward a man's specific needs. Anthony Logistics products treat every issue a man has with skin care, ranging from fine lines, wrinkles and dryness to acne breakouts and razor burn.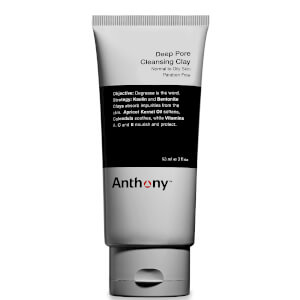 Anthony Deep-Pore Cleansing Clay (90g)
Enjoy savings of up to 70% in our Holiday Clearance Sale!
Discount has been applied to the MSRP. Offer valid for a limited time only.
SHOP NOW