Science
CeraVe moisturizing treatments use ceramides that form layers of lipids, which retain water in the skin. It also uses hyaluronic acid that binds moisture to the skin. These ingredients, along with the Multivesicular Emulsion (MVE) delivery system, keep the skin soft, smooth and supple.

Solutions
CeraVe Hydrating Cleanser gently removes impurities and loosens dirt to be washed away. Its unique, patented MVE formulation releases ceramides and other essential ingredients throughout the day, so they penetrate deep into skin to hydrate and nourish, while hyaluronic acid, a humectant, attracts moisture to the top layer of the skin, ensuring skin remains hydrated after washing. Your skin will feel fresh and clean, without the oily residue or tight feeling left behind. CeraVe Moisturizing Lotionpenetrates deep within your skin barrier to restore the lost moisture. This lotion restores balance and essential lipids without leaving any heavy or greasy feeling behind. Formulated with MVE technology to gradually release the nourishing and protective ingredients into the skin, helping your skin stay hydrated all day.

Background
Developed by Coria Laboratories, CeraVe products were created to provide complete skin hydration by drawing moisture to the skin and keeping it there.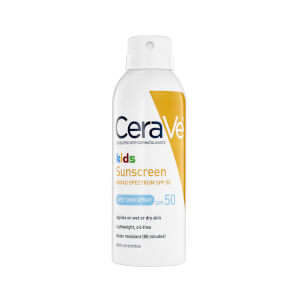 CeraVe Sunscreen Spray SPF 50 - Kids
25% off when you buy 2 items
Use code MORE to get up to 25% off your order. Buy 1 marked item at get 20%, buy 2 items and receive 25% off. Click SHOP NOW to view all products in the offer.
SHOP NOW