Science
The founders assembled a visionary board of medical physicians and skin scientists, on the forefront biotechnological, pharmaceutical and cosmeceutical research, to help develop this next generation skin care system that truly offers the best of the best. Based on the science of biomimicry, mybody products were designed to mimic and support how the body repairs, defends and heals itself for profound results.

Solutions
Creating a natural balance between internal health and the external appearance of the skin, the mybody targeted skincare systems are designed to address the complex skin care needs of every woman throughout each unique stage of her life. The name mybody is intended to remind us that our skin and our body work together as a whole. When the mind and body are in balance, the skin appears more youthful looking longer, regardless of age.

Your new go-to anti-aging product, the groundbreaking myHERO Anti-Aging Growth Factor Serum offers immediate firming and tightening results, while stimulating new collagen production. The mybody Protect and Serve SPF 30 UVA/UVB double-duty formula provides sunscreen protection and featherlight tinted makeup coverage. mybody Calm After The Storm not only alleviates redness and irritation, its youth-boosting formula naturally calms, hydrates, tightens and smoothes, giving you the youthful look that you desire.

Background
The story of mybody starts with Therese Clark, one of the mybody founders, searching for a skin care line to remedy the erratic changes in her skin during an undiagnosed thyroid condition in her early 30s. Even after thyroid treatment, her skin remained chronically problematic. After extensive research, she realized that there was a significant need in the skin care industry for an all-inclusive clinical skin care line formulated to meet the special skin care needs of women, as well as those with more severe, unpredictable skin issues. Therese joined forces with husband-and-wife team David Watson, one of the pioneers behind Philosophy and Biomedic Clinical Skincare, and Christine Watson, a former designer and buyer for the legendary Harrods department store in London.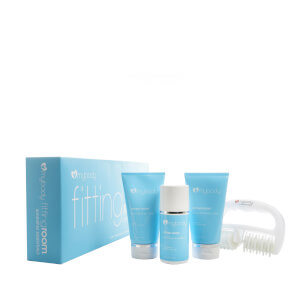 mybody Fitting Room Kit - Body Slimming Kit (Worth $235)
Enjoy savings of up to 70% in our Clearance Sale!
Discount has been applied to the MSRP. Offer valid for a limited time only.
SHOP NOW