Science
Pure Fiji combines the pride and knowledge of its ancestors, with the best current technology, to provide modern skin care with a traditional twist. It uses power packed ingredients, such as a variety of nut oils, which are wildcrafted to eliminate a carbon footprint. Organically-produced materials are used where appropriate.

Solutions
With ingredients, like nourishing exotic oils, in Pure Fiji Massage Oil - Mango and hydrating coconut milk shower gels, like Pure Fiji Shower Gel - Pineapple, your skin will look and feel better.

Background
Pure Fiji is also very aware of the impact it might have on the environment, so it seeks to be eco-friendly in every way possible. Some examples are:
- The benefits of oils are preserved because they are cold-pressed.
- Employee uniforms are air-dried to eliminate excess use of electricity.
- With free planting programs and a passion for performance, Pure Fiji promises a positive impact on both the customer and the environment.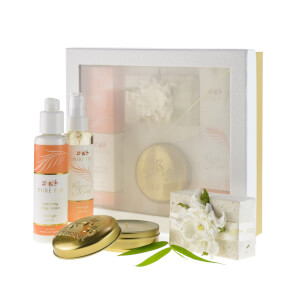 Pure Fiji Island Bliss Gift Pack - Mango
Enjoy savings of up to 70% in our Holiday Clearance Sale!
Discount has been applied to the MSRP. Offer valid for a limited time only.
SHOP NOW