Sun Laboratories
1 results
Science
Sun Labs employs a formula of pure ingredients to give you the richest-looking tan without harmful UV rays.

Solutions
The Ultra Dark Self Tanning Lotion is one of many best sellers. This lotion provides you with an authentic level-3 tan experience. The color is instant and goes on without streaking. Full color develops in three hours - requiring you to only wait one hour before showering, bathing or swimming. The tan lasts for five to seven days without reapplying.

-Customer comment: "It's easy to use, gives me more color and doesn't go too dark on knees and elbows. It also has no bad odor!" -Juanita

The Strictly Faces Lotion Level 2 Medium is a breakthrough in facial self-tanners. This lotion glides on like a moisturizer. The color is instant, developing into a healthy glow in just a few hours. Packed with anti-aging ingredients, this lotion is a powerhouse of moisture and color for your most delicate skin.

-Customer comment: "I love the natural tone - never orange!" -Holly

Background
Established and family owned since 1983, with over a quarter of century experience in sunless tanning products, Sun Laboratories, Inc., is the first professional self-tanning product manufacturer and distributor.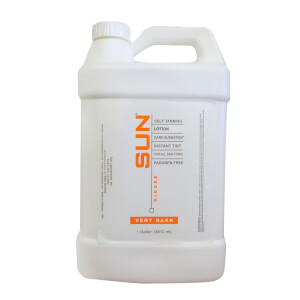 Sun Laboratories Dark Sunsation Self Tanning Spray Gallon
25% off when you buy 2 items
Use code MORE to get up to 25% off your order. Buy 1 marked item at get 20%, buy 2 items and receive 25% off. Click SHOP NOW to view all products in the offer.
SHOP NOW