Science
What you'll find in these products are only the purest ingredients. Organic shea butter, sustainably hand-harvested, along with soothing, nourishing botanicals like chamomile and green tea, flood your skin with the healing powers of Mother Nature. You won't find anywhere in the line - parabens, phthalates, sodium lauryl/ether sulfate, propylene glycol, or dyes.

Solutions
One of the most popular products is the Zents Lotion - Ore. Deep and spicy, Ore includes top notes of orris and coriander. This lotion also has soothing shea butter and green tea ingredients.

-Customer comment: "I had a small sample of this lotion. After a shower I used it, and it was amazing. The scent stayed with me all day. I had everyone asking me what I had on." -Karen

If you are looking for a warm, feminine and sweet scent, try Zents Fragrance - Sun. It has top notes of sweet orange and grapefruit. At its heart is vanilla, sandalwood and heliotrope.

Background
The story of Zents is a story of healing. Founder Cord Coen was injured in a devastating car accident, which left him with chronic pain, intense migraines and a complete loss of the ability to smell. In search for healing, Coen left Colorado and went to India, where he began internal herbal treatments, massage, meditation and yoga. Through this process, a miracle occurred, and he was able to heal his body and restore his sense of smell. Coen created Zents as a way to introduce to the world what he discovered on his trip to India.

In regaining his sense of smell in India, Coen's sensitivity to scent was dramatically heightened. Strong perfumes with high concentrates of synthetics would now trigger migraines. He began a process of testing all of his own scents on himself, friends, and family. Any scents that caused a reaction didn't make it into the line.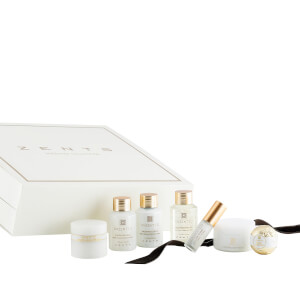 Zents Unzented Deluxe Gift Set